Watch the lost interview of Nobel Laureate F.A. Hayek!

What if 30 years ago history's most highly respected economist had predicted the financial crisis today, and how to get out of it? Shouldn't we listen? Find out NOW!

Exclusive footage of F.A. Hayek

Hear Hayek's never-before-seen exclusive and controversial thoughts.

Lost Interview from the 1980's

Hear him predict the crisis and how to get out of it.

Predictions for our future

What the world should do to get out of the current economic mess.

The Road to Serfdom - Condensed!

All the wisdom of a genius in just 45 minutes.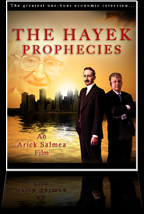 Discover The Hayek Prophecies
by renting this One-Hour Film in HD
for only $8.95 More Info

"Hayek's work has been a major influence on me. I, like others owe him a great debt. No person had more of an influence on the intellectuals behind the Iron Curtain than Friedrich Hayek... and undoubtedly... brought about the collapse of the Soviet Union." - Nobel Laureate Milton Friedman

"Amazing! Now I really want to read The Road to Serfdom! 10-minutes with this guy and you get why his book endured for 50 years!" - Stuart Hanlon, Philadelphia, PA